The 9 Best Big Pit Reels - (Full Guide on Long Distance Big Pit Carp Reels)
If you are looking for a fishing reel that is strong and capable of lugging a 5oz lead to the horizon with ease, then a big pit reel should be your choice.
This article will take you through all you need to know to make an informed choice on the best big pit reel for your circumstances. We'll also suggest 9 of our favourite reels based on many years of experience and extensive testing.
The article is an approximate 10 minute read so if you're in a rush, the following list shows the best big pit reels we recommend: 
The Best Big Pit Reels:
If you would just like to skip to details on the reels themselves then you can do so here.
Please read on (if time) to find out more on what to look for in a big pit reel alongside more detail around our chosen products. 
Article continues after advertisement
Alongside your rod, your biggest investment should be a suitable reel. With all the different intricate parts and mechanics of a fishing reel, it's an area that you ideally don't want to scrimp on.
A reel is going to be used so often that it makes sense to invest as much as you can reasonably afford in something which is of good quality and reliable. If you think about how much mechanical complexity is involved and how much work the reel does, you can see why quality really does matter.
The parts of a standard open faced fishing reel
Think of your rod and reel like a sports car. If the chassis is your rod, the reel is your engine. You wouldn't want to drive on a long journey in a Ferrari if it was fitted with a clapped out old engine. And just like a car without an engine, the best carp rod without a reliable working reel is rendered pretty useless.
As you move into bigger fish territory you are going to want to use bigger tackle. We hope it's obvious, but when you start using heavier gear you will have to accept that the stresses placed on your tackle are going to be higher. You will be casting harder, further and maybe more frequently.
You will also be casting heavier. Therefore you are also going to be reeling in heavier too. This is all before we have even begun to pull in bigger specimens.
Fortunately the angling industry has developed a certain type of reel that can deal with all these stresses, and it's called a big pit reel.
What does big pit reel mean?
Big pit reels are the big guns of the fishing world, they are literally casting howitzers. The best big pit reels are strong, powerful, robust and above all sizeable. Originally favoured by gravel pit anglers (hence the name).
Big pits became popular with carp anglers as they had the necessary muscle to cast bigger weights and pull in bigger fish. They have numerous advantages over their freshwater cousins and are identified by some easy to spot features.

The first most obvious feature in a big pit reel is their unbelievable line holding capacity. Obviously when you increase the size of the spool, you increase the amount of line that the spool is able to hold.
A typical big pit reel spool
Depending on the big pit reel you choose, you could very well find that you are winding on nearly half a kilometre of line. Yes, that's an awful lot of line.

Something that is not quite so obvious is the way in which the line is retrieved. The larger spool and slower action of the reel means that the line lay is much less dense. In basic terms, when you reel in, the line settles on the spool in a much more uniform way.
If the line goes on better it also comes off better. As such, the best big pit reels should give an improvement in your casting distance.

Another key feature of a big pit reel is the drag system. If you also indulge in a spot of sea fishing you will already probably be familiar with this system and have probably already seen many features that are similar to those on big pit reels.
The drag on a big pit is generally located on the front of the spool. There is no fine tuning of the reel at the rear, nor do they traditionally have a bait runner function.
If you are interested in the differences between a big pit reel and a baitrunner we do have a specific article titled big pit reels vs baitrunners that you can check out.
Article continues after advertisement
What are Big Pit Reels used for?
In answer to the question, generally, the best big pit reels are used for heavy duty work. Anything involving large distance, power or weight should lead you straight to a big pit reel.

If we are going to talk specifics as to when we you might want to bring out your best big pit reel, one obvious answer is spodding. Spodding is designed to lay a carpet of bait all around your swim in a feeder that is basically a bait filled bomb.
A fully loaded spod can weigh anything up to 8oz. This is a weight that even sea fishermen would cast with caution. If you tried casting an 8oz lead with a 2000/3000 size reel you'd strip your gears quicker than you can blink.

The type of fish you are looking to catch also determines whether you really need a big pit reel. If your usual day angling is spent pulling in 3lb Common's, then using a big pit real is more than likely overkill.
However if you are putting two oversized glugged boilies on a hair rig and throwing out a huge 5oz lead in the hope of catching a fish big enough to give you shoulder ache for days, then you want the grunt and firepower to bring it in quickly and effectively.
Any water that needs a cast of 100 yards plus to reach feeding fish, a big pit reel is a very useful addition to your arsenal.
A lake where Big Pit Reels are ideal
Can you use a big pit reel on a small water?
Yes you can. Or to be more accurate we should say, "yes you can… but it depends". It's all based around what size of fish you are trying to catch, and how you are trying to catch them.
If you are after a monster of a carp that just happens to reside in a smaller water then by all means go for it. But, and it's a big but, if you are trying to catch that carp using a method like say, float fishing, using a big pit reel is a big no no.
Big pit reels, by their nature, are heavy bits of kit although the best big pit reels are generally a bit lighter due to the enhanced materials they are made from.
The aim is to cast out, then set your rod down on your pod whilst you have a well earned breather. Float fishing, or anything that requires constant action and attention will leave you feeling fatigued if you use a big pit.
Article continues after advertisement
How to use a big pit reel?
For the most part using a Big Pit Reel is quite similar to using a regular fixed spool reel, at least in principle. You take the bail arm off pull back and let rip. But with a few subtle differences. Because of the forces and weights involved in heavy duty casting, it is prudent to tighten your drag on the front prior to making a cast.
The reason for this is that with big weights you are generating quite a lot of pull on the spool in the cast. If the spool happens to give at all, the line could cut your finger. When playing fish you may have to tweak the drag on the front. The best big pit reels often come with features that make this easy to do.
Finally, to get the most out of your big pit reel, it's really important you achieve the best Carp rod and reel combo for your situation. If you haven't got a rod that can handle the extra power of a big pit reel then you will not fulfil its potential.
What line to use on a Big Pit Reel?
So you have pulled the trigger and purchased the best big pit reel you can afford. It would be a shame to compromise all of those quality features with a line that wont allow you to realise its benefits.
It's like buying a fitted designer suit and then choosing a really bad tie!. If you are going to be casting a significant distance you ideally want a line that has low stretch capabilities for better feel and bite detection.
The line of choice for many carp anglers seems to be Guru Pulse Mono. It has low stretch capability and is practically invisible in the water. If you want the ultimate in wind cutting cast-ability and great strength to diameter, braid might be a great option too!
For more choice of line, check out the 'best sellers' currently being sold on Amazon:
Last updated on 2021-04-16 /  Images from Amazon Product API
The Top 9 Best Big Pit Reels:
The best overall big pit reel
Daiwa 19 Basia Reel
Simply quality. No doubt the best big pit reel for professionals. 

This one is for serious anglers. Whilst at the upper end of the budget if you were going to make one purchase, and one purchase only, then this reel is for you. This is your 'forever reel'. This is the best big pit reel on our list. There are more expensive reels, but from this point on you are in the realm of diminishing returns.
The features are luxury. A lightweight Zaion body means it is easy to hold and well balanced. The gorgeous black finish makes it look like something batman might fish with. And the air bail system is something that you didn't know you missed until you have it.
Tap the bail arm and it releases, turn the handle and it closes. With a slow spool speed and excellent line lay capability this reel will allow you to cast into orbit. A 15kg drag system gives you more than enough firepower to handle the biggest specimens.
The following video showcases some of the Daiwa 19s amazing features:
Overall the Daiwa 19 is not just one of the best big pit reels on the market, it is one of the best fishing reels on the market, full stop!
If you are lucky enough to have the budget to spend on this top reel from Daiwa, you really won't regret it.
Best budget big pit reel
This reel features a sleek, matt black finish against a graphite body and is supplied with 2 forged anodised aluminium spools.  The large diameter bail arm that these reels boast work in synergy with the bail roller for a beautifully smooth line retrieval.
The Sonik X Vader offers amazing value for money and as such, all in, this features as one of the top big pit reels on the market today.
Article continues after advertisement
Wychwood - Carp Riot Big Pit 65 Reel
People often have the incorrect assumption that the best big pit reel has to be expensive.
Fortunately however, there are budget options which will perform more than adequately.
The carp riot big pit 65 reel by Wychwood, is one of the best big pits we have tried at this price point.
With a silky smooth retrieve and a fair bit of power lurking within, you should be able to pull in fish of most sizes. The reel also comes with a spare spool, you could load one with braid and the other with mono, so you are set for all conditions. We really like the wooden handle too, a nice touch.
Shimano Ultegra 14000 XSD
The Ultegra 14000 XSD Reel will immediately catch the eye because of it's sleek, good looking exterior.
The features on this reel will also grab attention with some really innovative and unique additions. 
These include Shimano's X-Ship technology that provides improved gear durability and the super slow oscillation combined with aerowrap II for optimum oscillation speeds. 
The instant drag, AR-C spool and the free line reducers add to the extensive list of features that come with this top reel.
Shimano have always had a reputation for producing some of the best reels ever made for all types of angling.
The Ultegra is no exception, so if you need a quality big pit reel with some great additional features then this beauty may be for you.
Dynamic 7000 10 BB Big Pit Fishing Reel by NGT
NGT provide low cost with high quality consistently across their fishing tackle range.

Good things come in two's, or when it comes to reels, even threes.
If you are buying a setup that you want consistency with then NGT have given us the option of buying these reels as a set at a really decent price.
For a 10lb mainline these reels boast decent capacity, you'll get around 320 metres on a single spool.
A nice all round reel with smooth action in both the casting and retrieve. A really nice feature is the bail arm lock.
This ensures that there is no chance of it closing mid cast and breaking your line. The finish of the reels is a cool looking matte black and the neat finish rounds of a neat big pit reel at a very competitive price.
The above big pit reels are our top 5 choices covering both premium and budget options with some extensive research and testing. There were however some worthy challengers to the coveted title of best big pit reel.
The following four reels are also worth considering as they tick many of the boxes needed in a decent big pit:
Avocast Black Edition Reel
Fishingtackleandbait.co.uk
as of 12 April 2021 18:12
Black Widow Big Pit Reel
Fishingtackleandbait.co.uk
as of 12 April 2021 18:12
Sonik Dominatorx RS Big Pit Reel + Spare Spool
Item condition: New
Free Delivery
as of 16 April 2021 19:53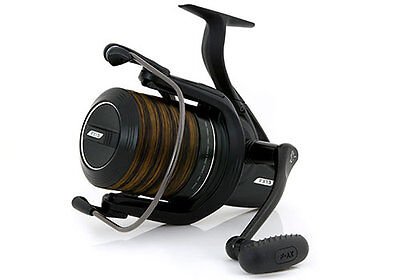 Fox FX13 Big Pit Reel
Item condition: New
Free Delivery
as of 16 April 2021 19:53
Conclusion
For any serious fisherman that find themselves fishing for specimens on large bodies of water, a must have is a quality, large capacity reel to cover the need on reaching fish at distance.
Big pit reels are just the ticket for this job and will no doubt put you in an advantageous position if they are part of your artillery.
Our choices will cover all circumstances including ability, experience and budget. We hope you enjoyed our article and indeed will find a big pit reel that suits your fishing requirements.
Tight Lines!
If you need any fishing tackle please consider visiting one of our recommended online fishing tackle shops or our fishing tackle deal page.
Related Articles...
Big Pit Reels vs Baitrunners