5 Best Pellet Waggler Rods (2022 Update)
The best pellet waggler rods are those that can deal with the stresses and strains that this exciting method imposes on a rod.
When pellet waggler fishing, there is a general requirement to cast often. The bites can also be sudden and ferocious due to the competitive environment the method creates when fish feed in shallow water.
Even the smallest of F1s can feel like you have a monster at the end of your line at times.
For these reasons, pellet waggler rods need to be strong, yet lightweight with a few additional attributes that make these rods perfect for this particular tactic.
In this guide, I will take you through what features and attributes to look out for in the best pellet waggler rods. I'll also offer some suggestions on some pellet waggler rods that tick all the boxes required to make them a decent purchase.
What Features To Look For In The Best Pellet Waggler Rods?
As stated in the introduction, the two key attributes of a pellet waggler rod are its weight and strength.
Unlike with more conventional float rods, there is a need to be constantly casting when pellet waggler fishing. Because of this, you will find you have the rod constantly in your hands. For this reason, a pellet waggler rod should be lightweight in order to make constant handling efficient and comfortable.
Pellet waggler rods also need to be strong. The constant casting is often made with small, yet weighty pellet wagglers and the fish often bite hard and put up a strong fight. Pellet waggler rods, therefore, have to provide power and durability to cope with these rigours.
The ideal length of the best pellet waggler rods is 10 or 11 feet and the rod action should be either a progressive through action or a tip to middle action. This naturally allows for additional power to be generated both on the cast and when playing fish.
A good pellet waggler rod should always balance nicely with a suitable pellet waggler reel that should equally be loaded with a suitable fishing line. This will allow for accurate and consistent casting which is very important to achieve if you are to be successful with the tactic.
Summary of The Features of A Good Pellet Waggler Rod
So in summary, the best pellet waggler rods should feature the following:
Lightweight
Strong and Durable
10 or 11 feet in length
A strong reel seat to house a well-balanced reel
A comfortable handle
Large, low friction guides.
5 Of The Best Pellet Waggler Rods
So now you know what features to look for in the best pellet waggler rods, let's now look at some options that contain these features.
Best Overall Pellet Waggler Rod
#1. Preston Carbonactive Supera 11ft Pellet Waggler Fishing Rod
Preston Innovations products are often featured in guides on recommended fishing tackle as they simply produce quality gear.
The Supera 11ft pellet waggler is another one of those products that are just a joy to use. When holding the rod, you can tell it's been built for durability thanks to its high-quality blank and recommended casting weight of between 2 and 10g.
The handle has a traditional feel about it with its cork section and a contemporary twist thanks to the addition of EVA. This is a well-thought-out design by Preston as it makes the constant handling of this rod comfortable even with wet hands.
I have used this pellet waggler rod on a number of commercial fisheries now and I can hand on heart say, it has never dropped in performance despite the stresses I tend to put it under.
I have landed double figure carp on this rod and have never felt like I was out of control of the fish when playing it.
My one criticism of the rod is its price as there are definitely cheaper rods out there but you do get what you pay for which is a quality rod, built with strength and durability in mind and one that is perfect for pellet waggler fishing.
Check out the following video that showcases the brilliant Supera range…
Features & Specifications
Full Length: 11ft – 3.35m
Handle: Cork &EVA
Casting Weight: 2-10g
High-quality Blank
2 sections
Best Pellet Waggler Rod For Commercials
#2. Shimano Aero X5 Pellet Waggler Rod
Shimano has produced a workhorse of a rod with the Aero X5 pellet waggler.
It is available in both 10 and 11-foot lengths which are ideal for a pellet waggler rod. 
Both of these lengths have their place with the shorter 10-foot length being my preference if fishing at close range and the 11 foot for fishing further out.
The Aero X5 has a beautifully soft progressive action which I find really helps to prevent hook pulls.
The robust yet lightweight build of this rod makes it an ideal pellet waggler rod for commercial fisheries as the higher stocking density usually means more action.
The rod balances nicely with the Stradic 4000 reel with these two combined making a real quality pellet waggler setup.
Again, my only gripe is the price. At over £100, the rod is at the premium end of the market, however, if the price is an issue, you could also consider the Aero X1 model as this is slightly cheaper.
Check out the following video that shows some basics on pellet waggler fishing whilst using the Aero X5 rods.
Features & Specifications
Lightweight carbon blank
EVA & Cork Grip
Shimano DPS Reel Seat
Seaguide Stainless Guides
10 or 11-foot versions
Cloth Bag
#3. Drennan Vertex Pellet Waggler Rod
The Vertex range of rods is the sequel to the very popular series 7 range of rods that were one of Drennan's best-sellers.
The pellet waggler rod which forms part of the whole Vertex range is a superb rod that ticks all the boxes that make it perfect for pellet waggler fishing.
At 10 or 11 feet, it casts with pin-point accuracy and has a medium action that you so need with this method in order to absorb the powerful lunges you can get from hard-fighting fish.
I absolutely adore the look and feel of this rod with the handle being made of a traditional high-grade cork material mixed with an EVA casting grip designed for comfort and longevity.
The reel seat is a screw-down type that locks your reel solidly in position for your whole session. The SiC guides allow for easy casting and are stylish in design that is synonymous with the Vertex range.
The nice and simple touch of a hook keeper ring completes a fantastic package that is 100% worthy of its place as one of the best pellet waggler rods on the market today.
Take a look at the following video that really showcases the Drennan Vertex pellet waggler rods.
Features & Specifications
11ft (3.35m) Length
High modulus carbon blank
SiC line guides
Ideal reel lines 4lb to 6lb
Screw-down reel seat
Shocking absorbing action to reduce fish loss
#4. Middy 5G 11ft Pellet Waggler Rod
Middy is a brand name that is synonymous with producing quality, coarse and match fishing tackle.
The 5G pellet waggler rod lives up to this reputation and is a very popular rod amongst anglers that look to enjoy the exciting pellet waggler method.
My favourite feature of this rod is the playing action. 
It is just so smooth. 
I believe this is down to the liquid carbon technology, which provides a consistent resistance that produces the smooth action. The benefit of this in fishing terms is that it ultimately limits hook pulls. 
The rod boasts SFA guides which basically stand away from the rod. This feature sets itself apart from the competition and comes into its own when it's raining as it prevents the line from sticking to the rod which can hinder casting.
Another feature that is unique from the competition is the 'Anomic' handle which is really comfortable to use and stylish in design.
The standard 11-foot version can cast anything between 3 and 15g but for any heavier work you can always consider the 5G+ version that is slightly more 'beefed up'
Check out the following video that demonstrates the rod from a user's perspective.
In summary, this is a fantastic pellet waggler rod that is unique in design and performs amazingly well.
Features & Specifications
SLC Liquid Carbon technology
A-Nomic handle grip/reel seat to match handgrip shape
Seamless parabolic action
S.F.A. smooth flow assist lightweight guides
Woven carbon stiff assist butt wrap
Cork/EVA curve handle design
2 piece design
Best Budget Pellet Waggler Rod
#5. Sonik SKSC Commercial Pellet Waggler Rod
I have classed this pellet waggler rod from the up and coming Sonik as the best budget pellet waggler rod, but please don't let the very low price point fool you into thinking this is an inferior rod.
Because it isn't.
In fact, you get exceptional value for money with the Sonik SKSC pellet waggler rod as it performs well above its price tag.
It is lightweight, slim and strong with the rod not dropping in performance at any time during the rigorous activity I put it through on my local commercial fishery.
The handle is made of a quality cork material mixed with EVA that resides next to a screw-down EVA reel seat that locks solidly.
The rod boasts titanium oxide insert guides throughout which allow for low-friction and accurate casting.
The rod is supplied in a quality cloth bag and completes a pellet waggler rod package that will leave you thinking you have just secured the deal of the century!
Okay so if I had to choose I would go for one of the more premium models suggested in this guide. However, if you are on a tight budget then this is absolutely worth your consideration.
Features & Specifications
Lightweight, slim and strong 24-ton carbon blanks
Quality cork/EVA handle
Screw down EVA reel seat
Titanium oxide insert guides throughout
Supplied in a quality cloth bag
Alternative Pellet Waggler Rods
The following pellet waggler rods, despite not reaching my top 5, are also popular alternatives amongst coarse and match fishermen and are worthy contenders to those featured.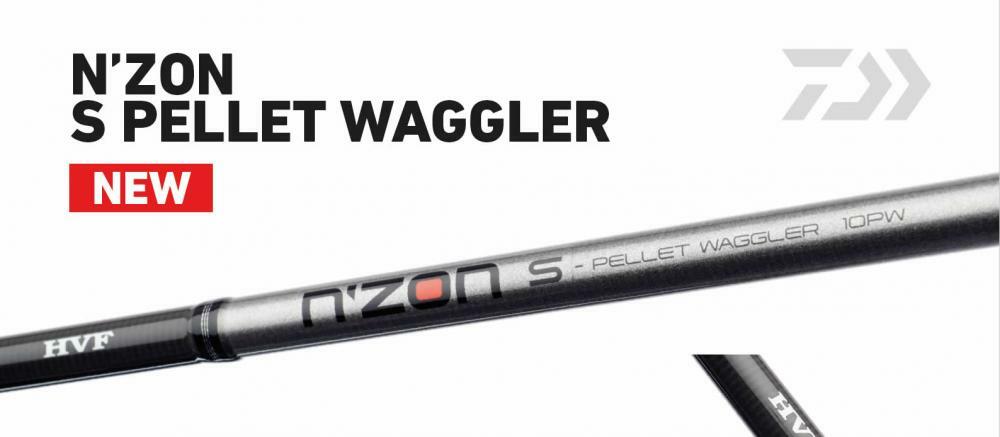 £100.49
in stock
3 new from £94.99
as of 30 June 2022 01:47
Fishingtackleandbait.co.uk
Fishingtackleandbait.co.uk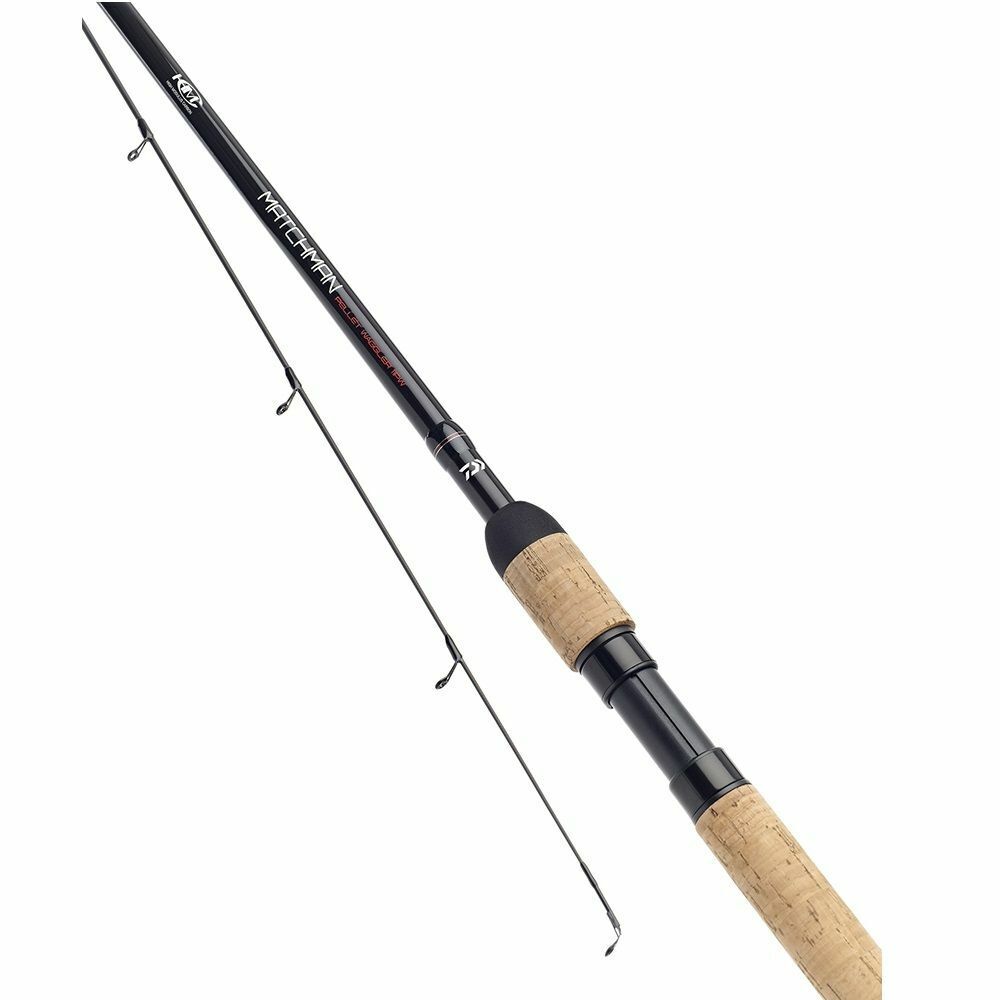 FAQs
If you still have some questions regarding the best pellet waggler rods, then please take a look at the answers below to some of the frequently asked questions I get on the subject.
Can You Use A Pellet Waggler Rod For Fishing The Method Feeder?
You can use a pellet waggler rod for method feeder fishing however it should only ever be for light feeders. 
This is because waggler rods, generally have a lighter action than feeder rods and so using a heavy method feeder with one could cause damage and breakages.
If possible it is best to use a dedicated method feeder rod for this tactic.
What Is The Best Length For A Pellet Waggler Rod?
The best length for a pellet waggler rod is either 10 or 11-feet.
What Is The Best Test Curve For A Pellet Waggler Rod?
Pellet waggler rods do not tend to be classified into test curves as this is more for specimen style rods.
Instead, they are often classified by casting weight measured in grams.
They are however classified into rod action types with a progressive or middle type action being the best action for the pellet waggler method.
Final Thoughts
The best pellet waggler rods are those that allow you to cast accurately and often. They also allow the absorption of the heavy lunges and pulls that can be generated by fish that are in a competitive mindset.
Hopefully, this guide has provided insight into what features to look out for in the best pellet waggler rods and has provided some options that suit your fishing circumstances.
To re-cap my recommended pellet waggler rods are:
#1. Preston Carbonactive Supera 11ft Pellet Waggler Fishing Rod
#2. Shimano Aero X5 Pellet Waggler Rod
#3. Drennan Vertex Pellet Waggler Rod
#4. Middy 5G 11ft Pellet Waggler Rod
#5. Sonik SKSC Commercial Pellet Waggler Rod
Many thanks for reading.
Tight Lines!
All of the fishing tackle featured in this article can be found at one of the following online shops…