13 of the best sea fishing rods - (Full guide on beach, spinning, boat & pier rods)
The best sea fishing rods are not always the ones that are the most expensive or have all the bells and whistles. A sea rod that you can cast effectively and fish with comfortably are two of the most important considerations alongside price of course.

In fact, the more effective your sea fishing rod, the more accurate you can cast and hopefully the more fish you can hook. To help you decide on this important piece of equipment, this article explains all the considerations to make before purchasing a sea fishing rod.

We'll also provide a list of what we consider 13 of the best sea fishing rods on the market today so suit all different sea angling circumstances.
The article is an approximate 15 minute read so if you're in a rush, the following list shows the best sea rods we recommend:
The Best All-Round Sea Fishing Rod:
The Best Beachcaster Rods:
The Best Lure & Spinning Rods:
The Best Boat & Uptide Rods:
The Best Pier Fishing Rod:
The Best Budget Sea Fishing Rods:
Please read on to find out more on what features to look for in the best sea rods alongside more detail around our chosen products.
Article continues after advertisement
Sea fishing is potentially one of the widest disciplines in the angling world. There is so much scope. There's boat fishing, kayak fishing, rock, beach, lure and pier fishing… and as a result there are boat, beach, surf, uptide, pier and lure rods… the list goes on and on…
Unlike coarse fishing where one rod will generally do (within reason), there are all sorts of variations dedicated to one specific element. So much so that it is hard to know where to start when choosing the best sea fishing rods.
Our general advice is to pick the rod for the kind of fishing you will be doing the most of. There are so many things to consider however.
What are the different sea fishing rod types?
Whilst a sea fishing rod isn't exactly unique there a few things that vary depending on what type of sea fishing you are doing. 
The different types of sea fishing rod you will see in the tackle shops are as follows:
Beachcasters / surf fishing rods
Boat rods
Uptide rods
Spinning / lure fishing rods
Pier fishing rods
All of these rods will differ in terms of length, test curve and action as well as some more minor differences such as eye size, reel seat type and even the blank material of the rod. The different rods will also differ in terms of what sea reel is best to partner them with.
Beachcaster Rods
Beachcasting rods are longer than other sea fishing rods and tend to be more heavy duty due to the requirement to cast long distances.
They are typically made of fiberglass or graphite and are built to be durable and strong. A beachcaster will vary in length from 12 to 16 foot and are generally designed to cast heavy weights upwards of 4 ounces.
Beachcasters are also known as 'surf rods' or 'surfcasters'. This is simply a difference in name and not the rod as they are the same thing.
Example of a beachcaster rod
Boat Rods
Sea rods for the use on boats tend to be a lot shorter than their beachcaster counterparts. 7 foot is generally deemed a good length for a boat rod. Think about it, there isn't a need to cast far if you are on a boat so there is no need for a longer rod to gain distance.
Shorter rods tend to have more power for handling larger specimens and, of course, you have the added advantage of a shorter rod not taking up as much room which can be handy, especially on a smaller vessel.
Example of a sea fishing boat rod
Uptide Rods
Uptide rods are basically boat fishing rods that are designed to cast your rig uptide or away from the boat. These particular rods tend to be slightly longer than the usual (downtide) boat fishing rods at around 8 to 10 feet in length.
The extra length in an uptide rod alongside a softer tip allows you to cast further and detect bites more easily.
Spinning / Lure Fishing Rods
To save on any confusion, spinning rods can also be called lure rods. They tend to be lighter than say a beach caster as the main aim is to cast a light lure a short to medium distance. Spinning rods also tend to have less eyes (or guides) than other rods and are quite often the choice of beginners to the sport.
Example of a sea fishing spinning rod
 Pier Fishing Rods
A pier fishing rod tends to be 'stiffer' than other sea fishing rods and on average length in the 10 foot range. Some anglers tend to just use beachcasters for pier fishing but if the pier is on the taller side, the stiffer action specifically for pier fishing can pay dividends.
Article continues after advertisement
What are the different sea fishing rod actions?
When we start talking about rod actions, it may sound like we are getting into some real complicated detail on the mechanics of a fishing rod. In reality though it's very simple. There are 3 different types of 'actions' in a fishing rod. These are tip action, tip to middle action and through action.
Tip action rods
WIth tip action rods, the majority of the bend and the movement of the rod happens at just the tip end. They are more suited for lighter work such as spinning / lure fishing and for small to medium sized fish.
Tip to middle action rods
Tip to middle action rods serve as a great all round sea fishing rod. They have enough tip action to be able to fish with lighter gear effectively but also a degree of power to go heavier if needed.
As such, tip to middle action rods are great to have as part of your fishing arsenal to cover different fishing eventualities as required.
Through action rods
Through action rods are more heavy duty than the other two types. When pressure is applied, the rod bends across the total length of the rod. For this reason they tend to be stiffer and stronger compared to a rod with more of a tip action.
Through action rods tend to be used for long distance casting and / or for big fish hunting.
An illustration of the three different rod actions
Article continues after advertisement
How to use a sea fishing rod?
Depending on what discipline you are fishing makes a lot of difference. For lure fishing it should be standard stuff if you have ever been spinning. Just tie your lure on, cast out and you are away.
If you are fishing on a boat, your rod length will likely be shorter and you may need to factor in using a rod that balances nicely with a multiplier reel.
Beach fishing rods are slightly different. An 18ft rod swung with venom creates a lot of force. Due to the weights and forces involved, particularly in casting, sea anglers employ what is known as a 'shock leader'.
This is a section of very strong line that is designed to stop the lead weight from detaching from the line due to the forces generated in casting.
As a general rule it is advised that for every ounce of weight cast, you multiply this by 10 to give you the minimum strength of shock leader required.
Check out this video that gives a good demonstration on how to cast a Beach Rod:
Can you use a freshwater rod for saltwater fishing?
In short, yes you can. However there is a but! Both freshwater and saltwater rods are similar, with rod actions and the general build applying to both types of rod. What differs between them are the materials that the components are made from.
Saltwater rods tend to have their components, such as reel seats and eyes, made from materials such as stainless steel, titanium or carbon. These materials are anti-corrosive as they do not react with salt water.
Freshwater fishing rods do not face the same corrosion dilemma so their components tend to be made from materials such as aluminium oxide.
If you are thinking of using a freshwater rod for sea fishing then you need to ensure you are fully rinsing, washing and drying the whole rod (including components) after every session. If you don't do this then expect the longevity of your rod to be significantly reduced.
Checkout the following video for more information including some maintenance tips:
What type of rod is best for beach fishing?
The best beach fishing rods tend to be longer in length. The reason for this is that they are required to cast further, a lot further. By creating a longer arm you can throw your weight further. It's simple physics. However, if you make something longer (especially a fishing rod) in order for it to be controllable it also has to be stiffer.
The correct balance is key however as you need to be able to get your sea rig out far enough without risking 'break offs' on either the cast or 'hook pulls' when playing a fish.
The weights cast are going to be a lot heavier too. They must hold the bottom, against the tide, so an increase in the casting weight means that anything to whippy will break easily.
On most sea fishing rods, you can expect to see an "oz" rating, that will tell you the ideal casting weight. You can go lighter, but the rod might not cast particularly well…  casting above this rating can be dangerous. 
As a happy coincidence, due to the nature of the sea you are much more likely to get snagged (or maybe catch something big), so having a stiffer rod gives you the necessary muscle to pull your way out of trouble.
Article continues after advertisement
The best sea fishing rods have a slightly different ring setup too. If you are using a beach caster with a multiplier then the reel goes on top of the rod when at rest. The rings on the best sea fishing rods will be spaced closer together and held further away from the body of the rod, so as to make sure the line doesn't touch the blank.
Beach rods in particular have a specific feature that you will see often. Bite alarms and such will not work as the line is subject to constant movement by the sea. The answer is an integral quiver tip, normally painted in some garish and easy to see colour.
As a handy hint, if you see a sea fishing rod with a colourful tip, it is generally designed for beach casting.
The following beachcaster rods are great options and, in our opinion, some of the best on the market today:
Best beachcaster rods
DAIWA TOURNAMENT SURF ROD
This great surf rod from the reputable Daiwa has many qualities which make it our choice for the best beachcaster fishing rod we have tested.
The rod is a hybrid that can cover multiple fishing applications. It is made from a high volume fibre carbon blank that makes it extremely light and sensitive yet powerful and resistant. 
The rod's lightweight design is coupled with a V-Joint Bias carbon joint system for the utmost in casting performance and sensitivity.

The Daiwa Tournament Surf Rod also features X45 Carbon Technology giving it incredible power and durability.
The rod is finished with a Fuji DPS reel seat on a fixed spool and has stainless steel Fuji K Alconite guides for increased corrosion resistance and the best possible line control. 
The rods general balance has a real nice feel about it and is versatile with varying lengths ranging from 12'6 to 16'.
Completing the package with a semi hard travel case this is a rod that is hard to beat and one that we thoroughly recommend.
---
Penn Rampage II Surf Rod
Penn are one of the goto brands when it comes to producing the best sea fishing rods.
If you are more of a beach casting 'enthusiast' and want better than a budget model then this specialised 16ft rod will cope admirably with whatever you can throw at, or from it. 
It is rated at 4-6oz, which whilst relatively light means that it is custom built for those weights, ensuring premium casting power.
The rod is finished in a deep, and easily visible, red colour, and the bright 16ft white tip means you'll never miss a bite.
---
Shakespeare Agility 14ft Beachcaster Sea Rod
Shakespeare make really nice gear at a decent price point. This rod isn't budget but we are amazed at the premium 'feel' offered at a fraction of the price of more expensive rods. 
The handles are easy to clean as they are rubber coated eva foam, giving convenience and comfort.
It will easily cast a 4oz or 5oz lead out into the deep without too much effort. It is just about light enough to use for other purposes, so if you primarily beach fish, but occasionally want to give something else a go this could be a contender.
For the money this is one of the best sea fishing rods we have seen.
Beach Fishing Rods ideally need to use a Tripod to rest on. This is to predominantly ensure that bites can be seen via the rod tip that is elevated by the tripod. If you need a Tripod for your rods checkout these best sellers on Amazon:
Best Selling Sea Fishing Tripods:
Last updated on 2021-12-03 /  Images from Amazon Product API
Article continues after advertisement
What are the best lure & spinning rods for sea fishing?
Lure or spinning rods are not actually too different from standard rods. They can occasionally be a little stiffer than their freshwater counterparts. As with the above, the best sea fishing rods for spinning may have to take a bit more punishment due to prolific weeds and rocks.
The rings on the rod should be substantial as they will be expected to accommodate heavier line especially as some sea lures can be quite heavy.
The other reason for the increase in stiffness is that fish (such as Bass) put up one hell of a fight. Combine this with the possibility of weed on your line, plus the pull of the tide and it should be plain to see why you want tackle that is a little more 'substantial' to be in with a chance of landing it.
We have tested a number of spinning rods out over the years and can safely say that the following three rods are the best in terms of quality and value for money:
Best Sea Fishing Spinning Rods
Daiwa Prorex X Spin Rod
This is another Daiwa rod that is winning a lot of accolades at the moment. There are many different versions of this rod ranging from lengths of 6' to 9'.
The HVF Carbon blank that forms the base of this rod is a solid bit of material offering a decent amount of power for casting as well as playing hard fighting fish.
The price point is also a major positive as you wont get many better for under £100.
---
Shakespeare Ugly Stick Elite Spin Rod
If you just need one rod, or aren't sure which discipline you want to try, then this rod could be for you. It is heavy enough to cast weights up to about 3oz, but also has a fast enough action to justify using it for big lures.
The slightly stiffer blank means that if you are smart, and use a bigger reel and thicker line you'll easily be able to power most fish away from danger.
It's even short enough to use onboard a boat… just. With ceramic lined rod rings casting is a breeze too.
---
Daiwa Wilderness Spin Rod
The Daiwa Wilderness Spin Rod is a perfect choice for anglers who want to start out with a rod that's tough, lightweight, and easy to travel with.
This great spin rod features a Fuji DPS reel seat and guides, a carbon cork and rubber butt cap, a woven carbon butt frame and a hook keeper.
With a range of 6-25g weights available in lengths between 6 and 11 foot, there's a Daiwa wilderness spin rod for every style of fishing.
The wilderness spin rod is a true workhorse built for serious anglers who know that fishing is more than just a hobby.
Whether you're on rough terrain in search of that hard-to-catch fish or casting in the back of a boat, this rod will never let you down.
---
Article continues after advertisement
What are the best boat & uptide rods?
As stated earlier on this article, generally a boat rod averages 7 foot in length with uptide rods slightly longer at between 8 and 10 foot. These lengths are largely down to restricting space on a standard boat and the fact that there isn't a requirement to cast long distances.
Also, shorter rods with a through action tend to be very strong and a key requirement if going for the real big fish in the sea.
The following two rods are our favourite boat and uptide rods respectively:
Best Sea Fishing Boat Rod
Daiwa Super Kenzaki Boat Rod
Yes, you've guessed it, yet another quality sea fishing rod by Daiwa and with the Kenzaki boat rod you have an all round, well made rod that will never let you down.
The first thing you will notice about this rod is how light it is. However don't let this subtlety fool you into thinking that this is a weak rod. It's quite the opposite and we were surprised with its strength as well as its perfect balance.
The usual quality rings and guides are present with this rod as you would always expect with the Daiwa brand. The V-joint technology is a popular and welcomed addition.
Overall this is a highly recommended sea fishing boat rod that should cover every eventuality.
---
Best Sea Fishing Uptide Rod
Penn Rampage II Uptide Rod
This Penn Rampage II uptide rod is a well built, lightweight rod made by the reputable Penn. It is constructed with high-strength IM-8 graphite with an advanced, proprietary layering technique. 
This technique allows the blanks to offer a real sensitive feel whilst maintaining core strength. The blanks use a High-Modulus Graphite Fiber (HMGF) that is 30% stronger than common graphite.
All in all, the Penn rampage II is a fantastic uptide rod that will do everything you ask of it and more. We thoroughly recommend it.
---
What type of rods are used for pier fishing?
Pier fishing rods are quite universal in the sea fishing world. By this, I mean they have a pretty standard length of around 10 foot and they tend to have a tip to middle or through action blank on them.
Some fisherman just use a beachcaster for pier fishing as this type of rod has the main attributes required for pulling fish up from the side of a pier.
There really isn't a need to spend big on a sea rod designated to pier fishing as there is no distance casting requirement and its highly unlikely you will be hooking into jaws on the UKs finest coasts!
For this reason we recommend to invest bigger elsewhere and for a pier fishing rod, stick to a good value, standard yet strong rod. We recommend the Shakespeare Beta 10ft Pier Rod as it ticks all the required boxes and does so at a fantastic price. 
Article continues after advertisement
What is the best all around saltwater fishing rod?
This is a good question! With sea fishing being so diverse and dependant on the species and whereabouts in the sea you are fishing, it's a tough ask to find an all-round saltwater rod.
For this reason we suggest you go 'middle of the road' in terms of length and rod action in order for your chosen rod to be at least somewhat effective for the fishing discipline you are practicing.
The rod length you should choose for an all round saltwater rod should be 10 or 11 foot and the action should be ideally tip to middle or through action to cover every eventuality.
Our number one choice for an all round sea rod ticks the majority of boxes needed for all sea fishing disciplines. Strength, length, weight, materials, quality of build and price point are all major factors in determining the best all round sea fishing rod.
Our favourite all rounder that satisfies all the above is the Daiwa Windcast 11 foot....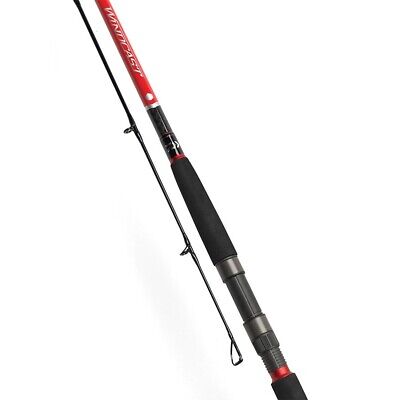 Daiwa Windcast Bass Rod 11ft 1-3oz
£145.00


£

79.99
 out of stock
Item condition: New
Free Delivery
as of 3 December 2021 08:57
What are the best budget sea fishing rods?
Now if you're on a tight budget or are maybe just trialing the sport and don't want to spend hard earned money on the latest gear, then a budget sea rod may suit you better than the above suggestions.
The problem with budget gear sometimes though is that it can be false economy. What you need is a sea rod that is of sufficient quality to do the job, do it more than just once (before it breaks) and also has low price point.
The following suggestions suit all the criteria needed in a budget sea fishing rod...
FISSION 14ft 3 Piece BEACHCASTER Sea Fishing Rod
2 new from £33.99

as of 2 December 2021 03:49
Sea Fishing Boat Rod & Reel With Multiplier
3 new from £41.49

as of 2 December 2021 03:49
Hunter Pro Telescopic 10ft Sea Fishing Rod & Reel
as of 2 December 2021 03:49
Conclusion
For sea fishing you have to make the rod fit the situation, and as with the sea itself, this can potentially change from day to day. What we do know is that the best sea fishing rods will perform well for their given role, but often give you the option for a bit of diversity when you need it.
Having enjoyed Sea fishing in Scotland over a number of years we have found that a diverse approach often pays off! Stay safe out there, and tight lines!
If you need any fishing tackle please consider visiting one of our recommended online fishing tackle shops or our sea fishing tackle deals page for some bargains.
Related Articles...