The 10 Best Carp Bivvy's - (Full Guide On Carp Fishing Shelters)
With a huge variety of bivvy's on the market, it can be a real minefield when trying to pick the right shelter for your specific circumstances.
The aim of this article is to provide you with the information you need to pick the best carp bivvy that suits your style of fishing.
Having trialled many bivvy's and shelters over the years as well as receiving feedback from many anglers, we hope our insight will help with your choice.
Strapped For Time?
If you haven't got the time to read the full article. This is what this section is for. So the answer to the question is as follows...
The best carp bivvy does largely depend on individual circumstances. For example are you on a budget?, do you need a quick erect bivvy?, are you planning for long sessions or short sessions?
The answers to these questions will determine on what bivvy to go for but in general the best carp bivvies on the market today are as follows: (click on the item to find out more)
The best carp bivvy's:
4. JRC Stealth Classic Brolly System 2G
5. Solar Tackle Bankmaster Quick-Up Bivvy
Read on to find out more on what we consider when choosing the best carp bivvy.
Article continues after advertisement
On your quest for carp, it is important that you are comfortable for those long sessions, waiting for that elusive sound of the bite alarms screaming, especially when you fish through the night.
A carp bivvy, is a dedicated shelter that is used for both day and night fishing. It can be opened up during the day to allow anglers to take shelter from the elements and closed at night for a comfortable night's sleep.
It is an essential piece of kit and will drastically improve your enjoyment when fishing for carp, keeping you and your gear protected from the wind and rain.
Article continues after advertisement
Considerations Before Choosing A Carp Bivvy
As with all areas of fishing equipment, carp bivvies are extremely versatile and come in a wide range of different shapes and sizes.
From one-man lightweight day shelters to two-man dedicated overnight camping tents, a good carp bivvy will ensure that anglers keep warm and dry; no matter what the unpredictable Great British weather has to throw at them.
For anglers to fish at their most effective level, it is very important that they are comfortable.
Whether it's a warm summer's night or a bitterly cold winter afternoon, the best carp bivvy needs to have the following qualities:
Keeps you and your tackle protected from the elements

Be lightweight and easy to transport

Be quick and easy to assemble

Be large enough to hold your gear and your bedchair /

sleeping bag

Be durable and long-lasting for decent sessions or even a

carp fishing holiday

The front can be opened for easy access to your rods

Keeps you warm during the night

Options for a second skin if you are 

carp fishing in winter
Article continues after advertisement
Carp Bivvy Material and Components
When searching for a bivvy, it is essential that you take the quality of materials used into account. 
As bivvies are exposed to the elements of the Great British weather, the materials used should be durable, long-lasting and waterproof, after all, the material is what is protecting you from the wind and rain. 
A cheap bivvy that is made from poor quality materials can be susceptible to leaking; instantly dampening the mood of the fishing trip that you have been looking forward to.
It is common for bivvy manufacturers to use a material called 210 denier fabric. Denier is the fineness or density of the fabric and is more than adequate to keep anglers warm and dry whilst fishing.
On your search for the best carp bivvy, you may also find that some brands use their own specially designed fabric. 
These fabrics will be used on top-end products and claim to be highly breathable, durable and waterproof, however, there isn't much difference compared to the non-branded fabrics.
The level of protection you need depends on the type of angler you are.
If you frequently go on long carping sessions in inclement weather, then you will need to look for the hydrostatic head rating. 
The hydrostatic head measurement tells you the strength of the material and how much water it can handle before it begins to leak. 
For example, a rating of 5000mm is able to withstand 5 metres of water at a time.
Article continues after advertisement
Types of Carp Bivvy
If you're a seasoned carp angler looking for a new bivvy, or a newcomer to the sport of carp fishing bewildered at the variety of carp bivvies on offer, below we outline the different styles of bivvy and what they are used for:
Pram Hood Bivvies
Pram hood carp bivvies are great for long sessions by the water's edge. They are spacious, very stable and are great for keeping anglers warm and dry.
Perfect for all seasons, pram hoods are very simple to erect. It simply folds out in the manner of a pram hood after which it is designed.
As they are much more substantial compared to brolly systems, pram hood bivvies are often the choice of anglers who night fish.  
This is because it offers the greatest protection from the elements and allows anglers to enjoy their time on the bank in relative luxury. 
An additional skin can be added to the outside of the bivvy to insulate it and also helps to prevent the build-up of condensation
Below are two pram hood bivvies that we have tried and tested and come highly recommended by many users:
The Best Pram Hood Bivvies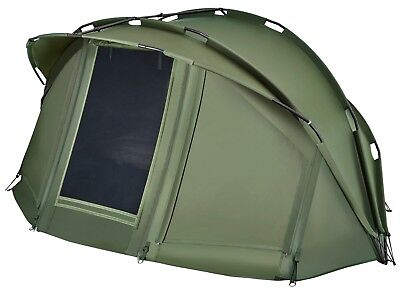 Trakker SLX V3 2 Man Bivvy
Item condition: New
Free Delivery
as of 21 October 2021 11:54
Fox EOS 1 Man Bivvy
Item condition: New
Free Delivery
as of 21 October 2021 11:54
Article continues after advertisement
Brolly Style Bivvies (Brolly Systems)
Brolly style carp bivvies are very popular with carp anglers that fish through the day.
They are essentially a large open brolly that is rested on the ground with sidewalls for additional protection from the wind and rain.
Although they offer less protection from pram hood carp tents, they are large enough to accommodate a bedchair and will ensure anglers are comfortable whilst waiting for their rods to spring into action.
Below are two of our recommended brolly systems that offer strength and great protection from the elements:
The Best Brolly Systems
ESP Hide-Out Brolly System
2 new from £214.94

as of 21 October 2021 10:41
JRC Stealth Classic Brolly System 2G
4 new from £318.45

as of 21 October 2021 10:41
Article continues after advertisement
Fast Erect Carp Bivvies
Fast erect carp tents are suited to the more mobile angler.
They are essentially a slimmed-down, lightweight shelter that is very simple and quick to assemble.
What they lack in creature comforts, in comparison to the more equipped pram head and brolly style bivvy's, they more than makeup in terms of convenience, accessibility and ease of transportation.
Within minutes of arriving at the bank, anglers can erect their bivvy very quickly and be fishing much quicker compared to anglers with larger carp shelters.
The below fast erect bivvy is one that looks a bit different from the norm but also one we found comfortable and extremely quick and easy to setup.
The Best Fast Erect Bivvy
Solar Tackle Bankmaster Quick-Up Bivvy.
4 new from £249.99
Free Delivery
as of 21 October 2021 10:41
Article continues after advertisement
Bivvy Sizes
Carp bivvies tend to come in one and two-man versions. Before you decide on the size of the bivvy you would like to purchase, you should consider how much gear and tackle you use when fishing, as you will need a place to store your gear in bad weather.
As there usually isn't that much of a difference in price between the two sizes, we recommend you choose a two-man version, even if you fish alone, after all, comfort is key to the longevity and enjoyment when fishing for a long time.
The exception to this rule however, is if your chosen water has some tight swims that could be very rewarding if you put the effort in and night fish.
In these circumstance you may need to go the other way and look for a more tight, compact 1 man bivvy.
The following five bivvies have been tried and tested by many a carp angler and all have top reviews. The list compiled includes 1-man, 2-man and a more compact carp bivvy.
The Best One-Man Bivvy
Extreme TX2 Man Bivvy
Fishingtackleandbait.co.uk
as of 19 October 2021 17:41
Defender Bivvy - 1 Man
Fishingtackleandbait.co.uk
as of 19 October 2021 17:41
Article continues after advertisement
The Best Bivvy On A Budget
If you are just starting out in the sport and would like to give night fishing ago, you probably don't want to spend hundreds of pounds testing out if it's for you or not.
For this reason you maybe looking for a cheaper bivvy that doesn't have all the bells and whistles but can still do a job.
The following budget bivvy is a top seller and has some some great reviews:
Final Thoughts
Finding the best carp bivvy to fulfill all your requirements can be a daunting task. It is however an important task to ensure you are fully equipped to tackle your chosen water for long sessions.
Hopefully you have found this guide useful and now have enough information to find the the best carp bivvy to suit all your needs.
If you need any fishing tackle, feel free to visit our carp fishing tackle deals pages for some potential bargains.
Related Articles...
The 7 Best Carp Fishing Apps